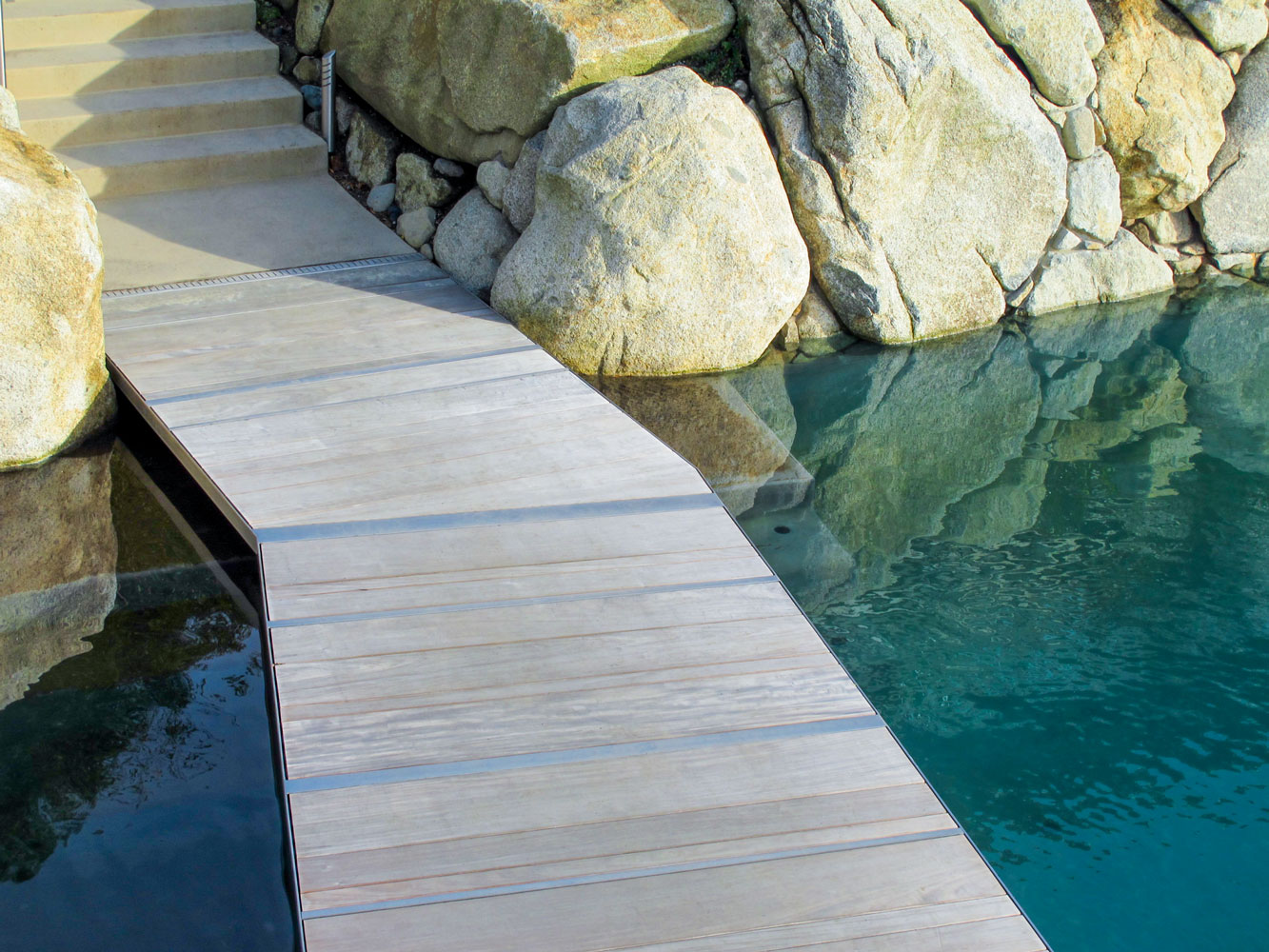 PHOTO CREDIT: PAUL BROADHURST
This bridge spans the pool at a Shoreline Re-Imagined, a 2020 National ASLA award-winning project.
Modernist Bridge
February 8 2021 | AUTHOR: Paul R Broadhurst
The notion of the bridge as a gangplank spanning the width of the pool was an appealing one. For this to happen, it needed to be slim and lightweight in appearance.
Modern too, to best contrast with the large weathered boulders that were to act as a portal in the rock-face on one side.
 
The bridge is ultra-slim. At 2 1/2″ a pursuit of thin-ness led to many design iterations, some of which were innovative. I blame Apple product design for our current craving for all things sleek and modern.  To successfully fashion this aesthetic for an outside environment excited me greatly.
Initially, a bridge made of structural timbers proved too thick and weighty in appearance. Once we realized that the Ipe hardwood did not have to be structural – that it could be thin and designed as a series of 'rafts' laid within a structural cradle of metal, we were then able to meet our thickness preference. Since the wood will need periodic replacement, these rafts are lightly attached to the metal frame and can be switched out when needed. The Modernist Bridge is made of marine-grade stainless steel, so replacing the wood component this way adds to the piece's long-term durability.
The end result is a modern engineered product. Further, the bridge surface has cross-bracing of metal; these are structural but read-alike and in tandem with randomly dimensioned hardwood. This surface design playfully references the barcode, a ubiquitous part of our modern lives since the mid-seventies. These elements help make the piece fun and visually arresting.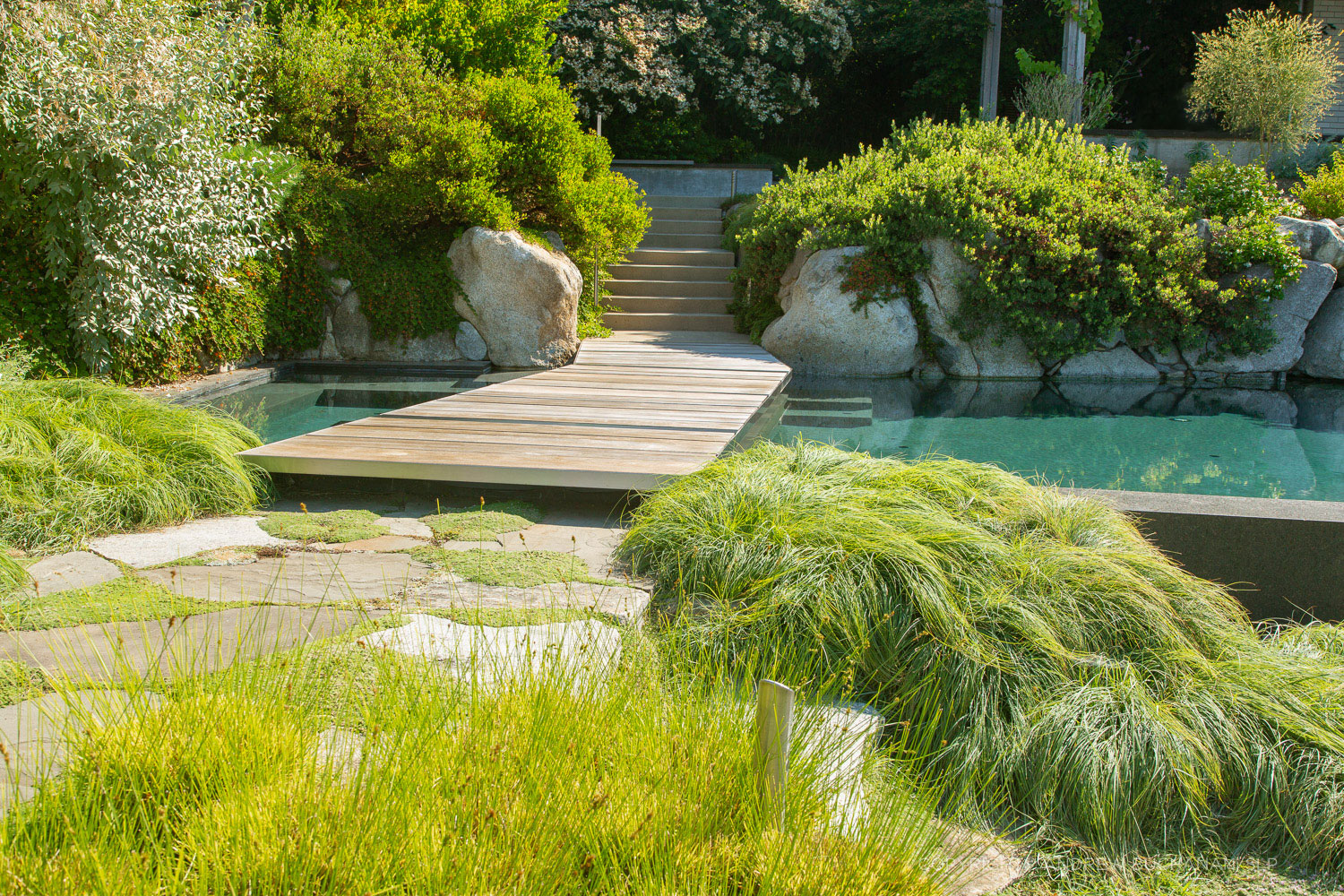 PHOTO CREDIT: ANDREW BUCHANAN
Mature plantings – many of which are native – bed the structural elements into a wider and more natural context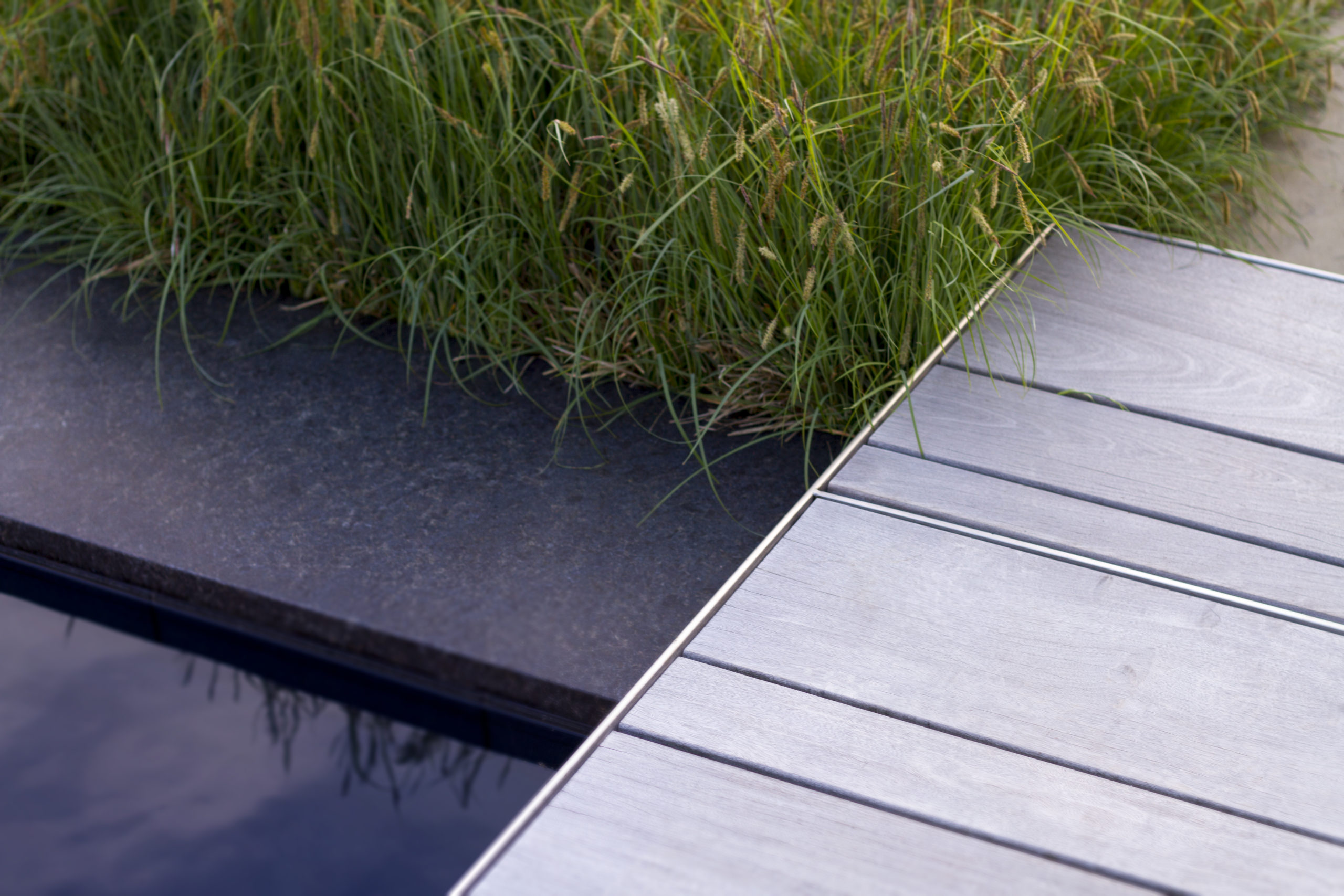 A relationship of four elements:  water,bridge, plants and stone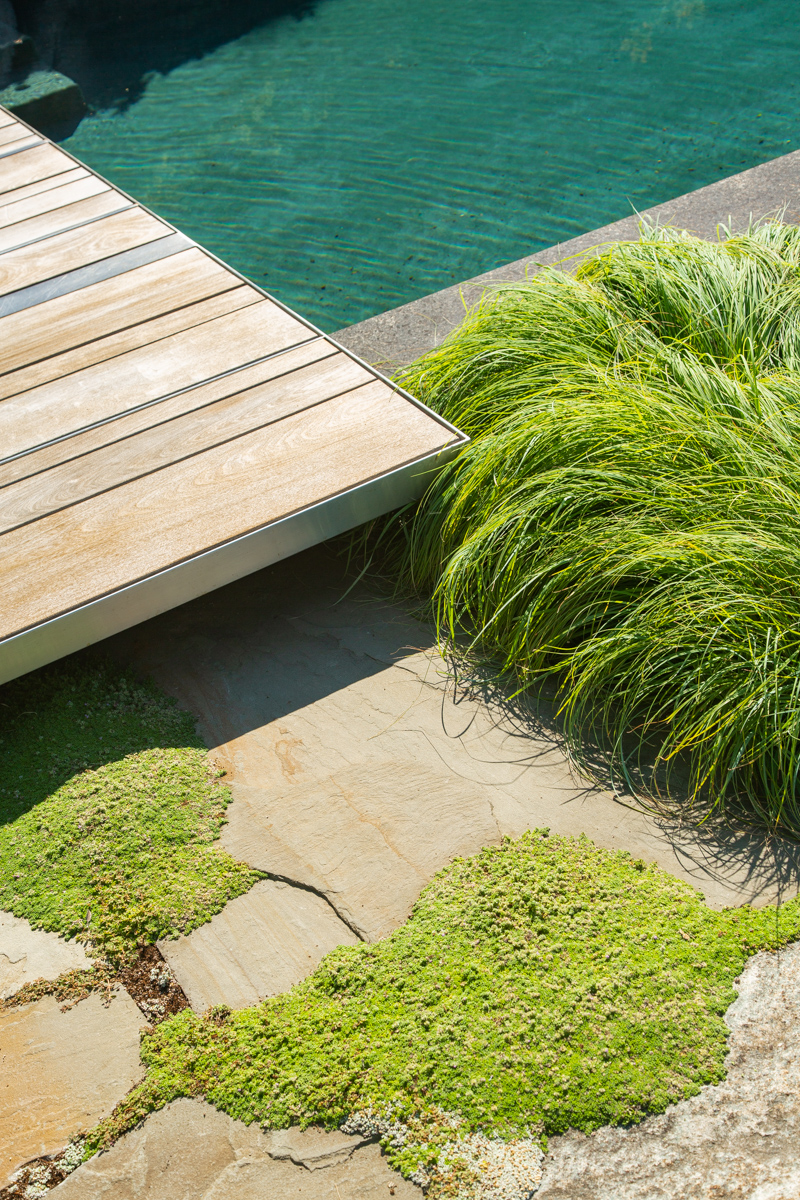 PHOTO CREDIT: ANDREW BUCHANAN
Bridge cantilever, bluestone, native Carex tumilicola, and Elfin thyme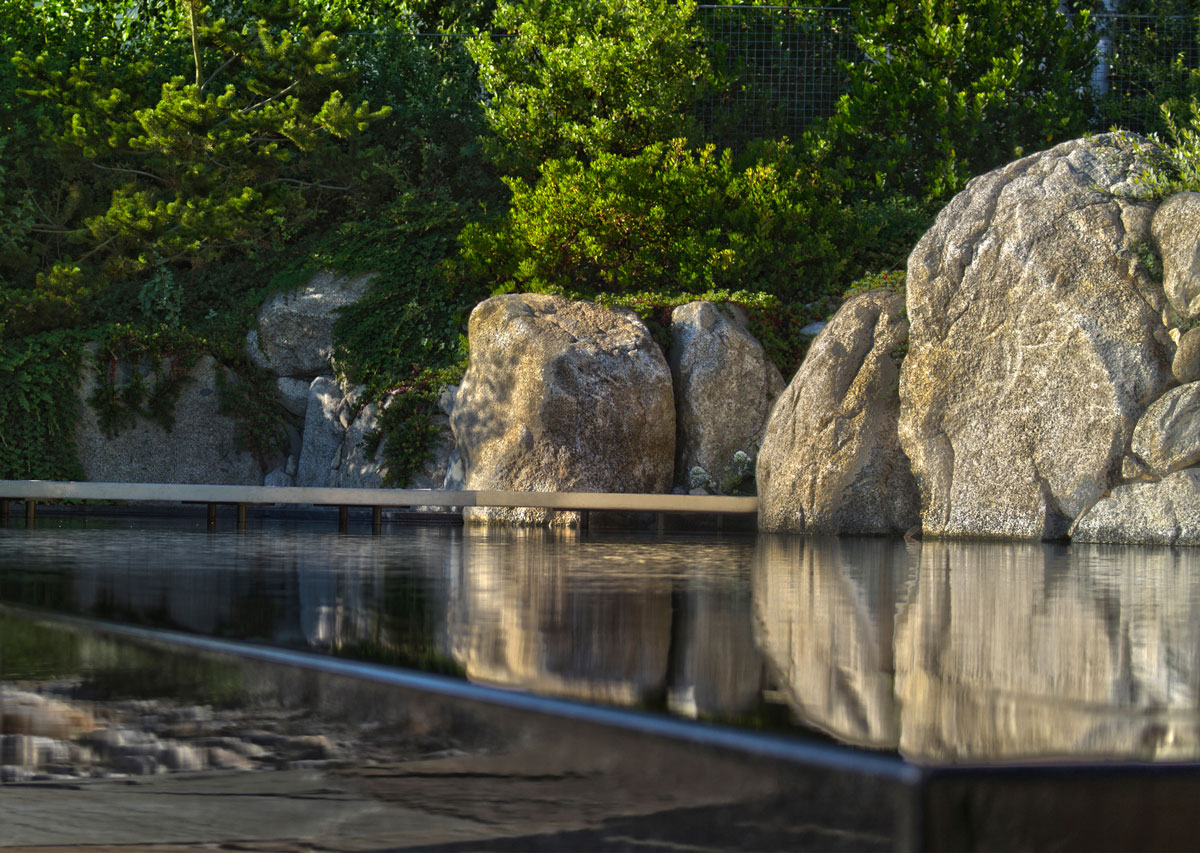 The thin polished horizontal of the bridge appears to float above the still waters of the black pool.
Oversized boulders read as a rock massif and angle down below these flat planes and into the water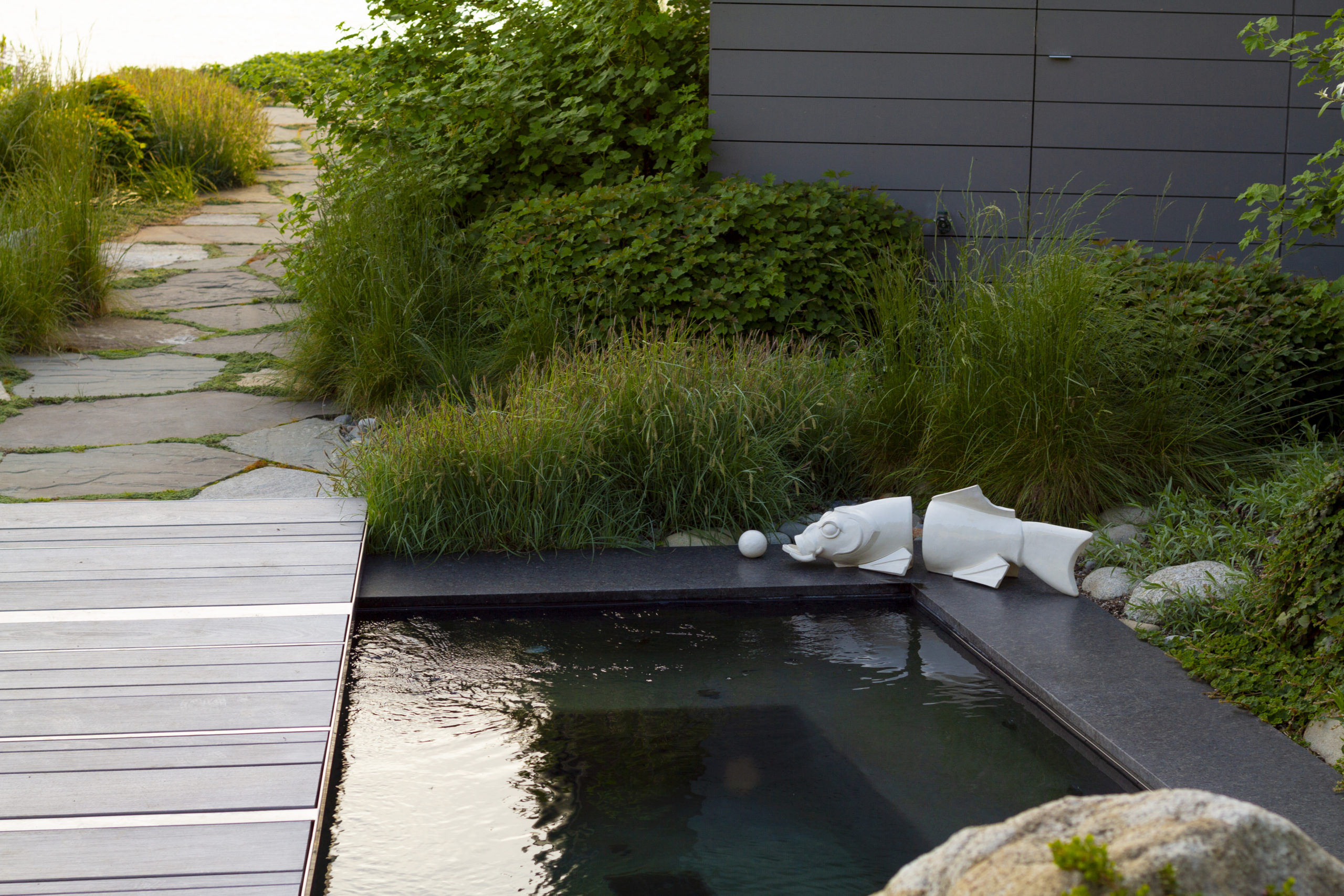 The bridge leads the eye to the new stone path shore access.
Resting on the pool edge the bridge demarks a back-eddy space – the spa
With a kink, a flare and a subtle redirection, the modernist bridge works alongside the playfulness of the landscape, and provides a link to the restored shoreline beyond. Wassily Kandinsky's Composition VIII provided the source influence for the spatial arrangement of the site plan.
— Paul Broadhurst
Design: Paul Broadhurst
Structural Engineer: Steve Tapp with Broadhurst+Associates
Fabrication: T-Tech (metal) Tim Hutchinson (wood)
General Contractor: Dick McDonald